For your inspiration and encouragement on the journey towards holiness, here is…
Say Yes to Holiness Newsletter #23
Greetings, my Fellow Pilgrims on the Way!
Food for the Head
"Reading the holy Scriptures confers two benefits. It trains the mind to understand them; it turns man's attention from the follies of the world and leads him to the love of God. Two kinds of study are called for here. We must first learn how the Scriptures are to be understood, and then see how to expound them with profit and in a manner worthy of them . . . No one can understand holy Scripture without constant reading . . . The more you devote yourself to the study of the sacred utterances, the richer will be your understanding of them, just as the more the soil is tilled, the richer the harvest."— St. Isidore of Seville, p. 201, Witness of the Saints
Is reading Sacred Scripture a part of your daily prayer routine? Are you spending time in meditation reflecting upon them so you can grow in understanding?
This week, make a commitment to begin reading some Sacred Scripture each day and meditating upon them in order to grow in understanding of them.
Food for the Heart
"Of all human activities, man's listening to God is the supreme act of his reasoning and will." –St Pope Paul VI
This reality of the importance of listening to God is completely discounted in the secular world. In fact, it's not too much of a stretch to say that the secular world would contend that listening to God is the most unreasonable thing a person can do vs it being the supreme act of reasoning and will as explained by Saint Pope Paul VI.
This week, reflect upon how deeply you believe what St Pope Paul VI expresses about what is the supreme act of reasoning and will, and make a commitment to spend 5 more minutes a day in SILENCE in order to allow you to listen more attentively to God's voice in your life.
Food for the Hands
"Action relies upon contemplation for its fruitfulness; and contemplation, in its turn, as soon as it has reached a certain degree of intensity, pours out upon our active works some of its overflow. And it is by contemplation that the soul goes to draw directly upon the Heart of God for the graces which it is the duty of the active life to distribute. And so, in the soul of a saint, action and contemplation merge together in perfect harmony to give perfect unity to his life."— Dom Jean-Baptist Chautard, p. 62,
Soul of the Apostolate
Each day this week, allow your actions to be fed from the fruit of your prayer time and the reception of God's grace in the sacraments. Visualize yourself being the conduit through which God's grace flows into every person that you encounter during your week.
Food for the Feet
"Silence, for our spiritual life, is like the space inside the body of a violin: it is what allows the music to resonate." —Fr John Bartunek, A Quiet Place
This week, COMMIT to spending 1 hour in SILENCE at some point. No radio, no tv, no movies, no audiobooks, nada. Nothing but you and God.
Did You Know?
"…the RCIA (Rite of Christian Initiation of Adults) calls the Church to see and be what it is: the people of God sent out on a world-shaking and world-transforming mission–evangelizing, witnessing, teaching, serving, healing, dying to self and rising to new life." –Fr. William Harmless, SJ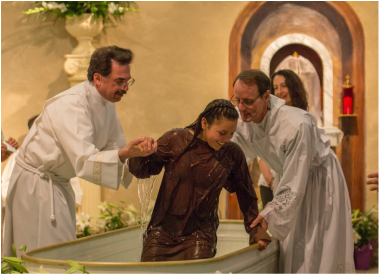 Exhortation
Did you know that every type of ministry and activity within the life of a parish community should be catechumenal in nature?
Most of us realize and know that somehow, something (or lots of things) have gone drastically wrong in the catechesis of younger generations. We have failed to communicate the value of living a life of virtue and faith. We have failed to communicate that walking with God in deep friendship is the best way to live. And we have most definitely failed to demonstrate the absolute relevance of Jesus Christ and His Church in the modern culture.
But within the Catechumenal process of RCIA we have the solution before us that can bring a renewal and transformation to not only our parish communities and the world around us, but is the key to us being able to offer each and every person we encounter the opportunity to enter into transforming union with God and discover their true purpose, deep peace and abundant joy and happiness.
So do whatever it takes to help people encounter Jesus. Because then you can tell the Master of Death, NOT TODAY.
God bless each one of you, and I look forward to seeing you on the Way soon!
All the best,
Christina
PS–My apologies for the delay in sending my newsletter out this week, but have been working hard to keep making progress on completing the draft of my book, Say Yes to Holiness: Finding Purpose, Peace and Abundance in Daily Life, and with the uptick in activity associated with the restart of ministry activities at the parish, have had to choose what to work on when I had time to write, so therein the delay for my newsletter. But am getting closer to book completion, so keep up the prayers that I can get it done in the next couple of weeks!
PPS-Just as a reminder, if you are looking for an EXCELLENT meditative rosary, you can sign up here for one led by Dr Michael Scherschligt at the Holy Family School of Faith, and If you are finding this newsletter to be of help to you, please share it with a friend. Am firmly convinced that there is NOTHING better than helping a friend make a small change to help them grow in holiness! Sof if this has been shared with you and you want to sign up to receive it directly to your own inbox, just go to the www.sayyestoholiness.comwebsite, and click on the Newsletter signup link