CALLING ALL PRAYER WARRIORS! URGENT PRAYERS NEEDED FOR DAN BURKE WHO IS CURRENTLY IN ICU ON A VENTILATOR FIGHTING COVID-19…
For those of you who do not know who Dan Burke is, he is the founder of SpiritualDirection.com and author of numerous books on the spiritual life, including Navigating the Interior Life, Into the Deep and the recently published, Spiritual Warfare and the Discernment of Spirits.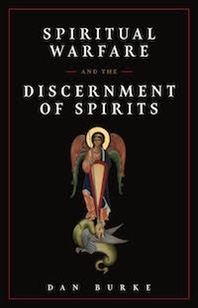 This message went out from his wife, Stephanie Burke (who is fighting COVID-19 too):
My friends, I've never needed you more.
Many of you have heard by now that Dan and I tested positive for COVID-19 last week and have been very sick. Dan always knew that he was in the high-risk category and that if he contracted this virus it could be difficult to recover.
As the illness has progressed Dan's condition has in fact worsened, and he is now in the ICU on a ventilator. He is fighting for his life.
He is not fighting alone.
I am asking you with everything in me to please storm heaven for my husband.
God has raised armies before and He has raised one now. He has been preparing us for this moment from the time you joined our ranks and learned with us, side-by-side, the wield the most powerful weapon we have: prayer.
I am begging you to stop what you are doing right now and to say what Mother Teresa called a "Flying Memorare": 9 Memorares in a row for an intention. Short, powerful, Marian.
Remember that in the Gospels, before he worked healing miracles, Jesus asked, "What is it that you want?"
With that in mind, please pray very specifically that Dan's lungs will clear and begin to breathe on their own. Pray that God will be glorified through a full recovery and the complete restoration of his health.
Thank you in advance. I will keep you updated.
United with you in prayer,
Stephanie Burke
"Courage! Do not fall back." – St. Joan of Arc
Memorare
Remember, O most gracious Virgin Mary, that never was it known that anyone who fled to your protection, implored your help, or sought your intercession was left unaided. Inspired with this confidence, I fly unto you, O Virgin of virgins, my Mother. To you I come, before you I stand, sinful and sorrowful. O Mother of the Word incarnate, despise not my petitions, but in your mercy hear and answer me. Amen.