Happy Good Friday!
Am sure many of you are probably asking, how can Good Friday be happy?
Well, in the same way that we call it "good."
And that goodness is captured in the beautiful line from the Exsultet that will be sung (or proclaimed) at the Easter Vigil tomorrow evening, "O Happy Fault that merited such and so great a Redeemer!"
But as we await that moment of the lighting of the Easter candle and when Christ's light will begin to spread across the world again, the journey of the Passion awaits us.
The Passion is the human journey in miniature. From being unjustly condemned, to each of the falls, to meeting those we love on the way, and finally, to persevering in the midst of great suffering, Jesus' Passion helps model for us how we can allow our Heavenly Father to take the most horrid and painful of situations and have them transformed.
The essence of the Passion can be found in the Stations of the Cross, and as we pray them, we accompany the One who undertook the journey because of love.
Love for each and every one of us.
So today, on this Good Friday, I invite you to pray the Stations. There are many beautiful meditative Stations of the Cross versions out there, but this one by Bishop Robert Barron is one of the best virtual ones I have seen, so consider using it to help you walk the journey alongside Jesus.
And as you do, offer your cross—your pain and suffering and whatever is a sacrifice—anything that you do not like, did not choose, cannot change, and do not understand, to the Father, trusting, just as Jesus did, that by being faithful and persevering in the midst of it, God will be able to transform it.
And in so doing, with, in and through God's Grace, we will help redeem the world.
We adore you, Christ, and we praise you: Because by your Holy cross you have redeemed the world.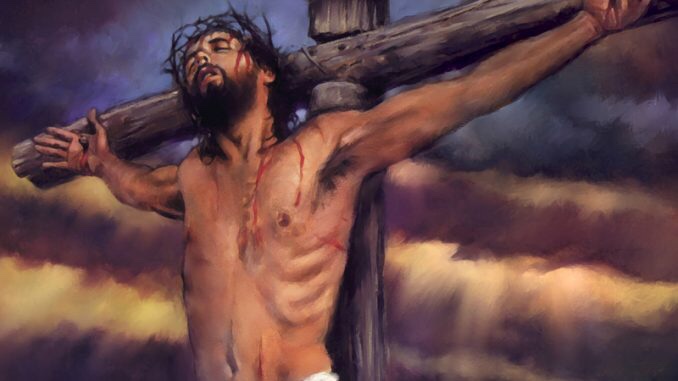 Christina Semmens is a Roman Catholic author, speaker, and coach and host of the Say Yes to Holiness podcast. She currently lives in Fort Payne, Alabama where she strives to live out a life of authentic discipleship in the pursuit of holiness while empowering, teaching and accompanying others in striving to do the same.
If you want to learn more about how to embrace the life God created you for and discover more purpose, peace and abundance in your daily life, then plan to join me during the week of April 20th for the SAY YES TO HOLINESS TODAY Masterclass Workshop. To get more information, either send me a direct message to @sayyestoholiness on Facebook, or send an email to: christinasemmens@gmail.com.
You can also Text to Join My email list by texting SAYYESTOHOLINESS to 66866 or sign up for my weekly newsletter here. You can also listen to the Say Yes to Holiness podcast or learn more about my ministry efforts at: www.sayyestoholiness.com and www.christinasemmens.com