Dr. Jim Henry is an author, speaker and pastoral minister who served as part of a discussion panels during the Say Yes to Holiness Transformation Online Summit held May 19-22, 2020. Jim is the Founder & Creator of The Life Givers Network®. His primary objective is to provide every person diagnosed with a life-threatening or life- altering illness an opportunity to experience abundant life, no matter how severe the diagnosis or how poor the prognosis.
Although the Life Givers Network is based in New Jersey, the organization just went through an extensive overhaul of their online presence so as to ensure that the materials and support of The Life Givers Network® are now available online for anyone to access from anywhere in the world.
The vision for Life Givers is based on God's Word as found in the Bible. In February of 1991, while part of a graduate school class, Dr. Jim was challenged with the question, "What are you doing to intentionally take healing to people?" That same night, while reading and seeking God's direction, he came across a passage in the Old Testament book of Numbers, chapter 16, verses 46 to 48.
In those verses, Moses spoke to his brother Aaron saying "Take a censer and put fire in it from the altar, put incense on it, and take it quickly to the congregation and make atonement for them…the plague has begun." That same night Dr. Henry decided to return to New Jersey, pray, seek the counsel of friends and family, and see how he could position himself to do as Aaron had done, stand between the "plague of cancer" impacting his family and those individuals who he knew and loved were being impacted. In January of 1992, Dr. Jim opened James Henry Counseling Associates (JHCA) from which The Life Givers Network® has evolved.
In this special episode of the Say Yes to Holiness podcast, which is part of the Summit Speaker 1 on 1 Interview Series, Christina and Jim continue the conversation begun during the Say Yes Summit and highlight Jim's efforts to help give what people what they need to live a life of abundance in the aftermath of a life altering diagnosis like cancer. Jim began doing this through counseling and small group coaching, and those efforts evolved into The Life Givers Network®.
When I spoke to Jim, he was just preparing to re-release his book, After Diagnosis: Life–Conquer Your Fear, Develop Your Life Plan, Impact generations To Come. Jim shared that his book is about LIFE. It's a book about finding life, maybe the best you have ever known or lived, after the diagnosis of a life-threatening or life altering illness. It's a practical book that offers hope, encouragement, and specific steps on how to move toward an extraordinary life no matter how severe the prognosis may be.
The book is born out of Jim's personal, family, and professional experiences, this book will help patients and caregivers alike to focus on things that matter most: life and people. It's a book for anyone who desires to pursue life no matter how bad things look, and is an inspiraton to anyone struggling with life-altering health situations.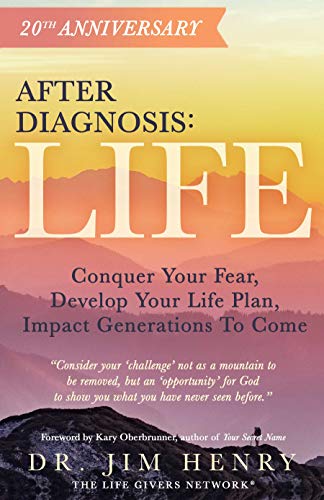 Jim's work is desperately needed in our world that struggles to find meaning in any situation that includes pain and suffering, and just like my efforts at Say Yes to Holiness, he encourages people to find purpose in God's plan for their lives–a life of purpose, peace and abundance.
I pray that you find this conversation with Jim as encouraging and uplifting as I did, and I hope it inspires you to share with others the reality that life is not over in the wake of a diagnosis, but can actually be the gateway to living an extraordinary life.
Listen to this special episode of the Say Yes to Holiness podcast
You can connect with Jim and learn more about LifeGivers, or to purchase his book at: https://tlgn.org
The Say Yes to Holiness Transformation Online Summit had more than 30 speakers and panelists come together to focus upon the question of how to "Pivot Towards Our Best Selves" in these challenging times. To access all of the FREE content from the Summit, go to the Say Yes to Holiness YouTube channel to access the Say Yes Summit Speaker Video Playlist, the Summit Discussion Panels, and the Summit Speaker 1 on 1 interviews as they are released.
Christina Semmens is a Roman Catholic author, speaker, and coach and host of the Say Yes to Holiness podcast. She currently lives in Fort Payne, Alabama where she strives to live out a life of authentic discipleship in the pursuit of holiness while empowering, teaching and accompanying others in striving to do the same.
If you want to learn more about how to embrace the life God created you for and discover more purpose, peace and abundance in your daily life, then join me NEXT week from June 15th-19th for the FREE Say Yes To Holiness TODAY Masterclass Workshop. To get more information, click to join the Say Yes to Holiness TODAY Facebook group or send an email to: christinasemmens@gmail.com.
You can also Text to Join the Say Yes to Holiness email list by texting SAYYESTOHOLINESS to 66866 or sign up for the weekly Say Yes to Holinessnewsletter here. You can also listen to additional episodes of the the Say Yes to Holiness podcast or learn more about her ministry efforts at: www.sayyestoholiness.com and www.christinasemmens.com