Niccie Kliegl is an author, speaker and Certified Life Coach with a passion for helping others reach life fulfillment, to live healthy, complete, and balanced lives that are prosperous and faith-infused. She understands the dilemma of striving to be great in one area of your life – at the cost of another. She knows that true peace and contentment come from finding a healthy balance of all areas of your life, with faith being the foundation, and that is what she strives to share with others.
The concept of her personal coaching program, Fulfill Your Legacy, is built around the understanding that we are creating our legacies every day, every second, everywhere we go and with everyone we encounter. But then it wasn't too long that Niccie realized that many of her clients would want help stepping in which became her business coaching program, Launch Your Legacy.
From that came the founding of THE LEGACY LEADERS, another branch of Niccie's developing company which is an awesome community of Christian Leaders who share a passion to be elevate by the Trinity and to raise up their loved ones and sisters and brothers in Christ.
In this special episode of the Say Yes to Holiness podcast, which is part of the Summit Speaker 1 on 1 Interview Series, Christina and Niccie continue the conversation begun during the Say Yes Summit and highlight Niccie's efforts to help others fully live out their faith. Niccie's efforts help give what people what they need to live a life of wholeness using the breaking open of Scripure using the model of Problem, Word, Gift and Choice.
Niccie is the author of two books, Awaking the Living Legacy: Adopt Your Life Purpose, Abide in Healthy Living, Accept Abundance and Embracing the Loving Legacy: As For Me And My House (The Legacy Series). When I spoke to Niccie, she was hard at work on the third book in the series, and was in the process of launching a monthly subscription group that focuses upon nourishing the mind, soul and body. In this way,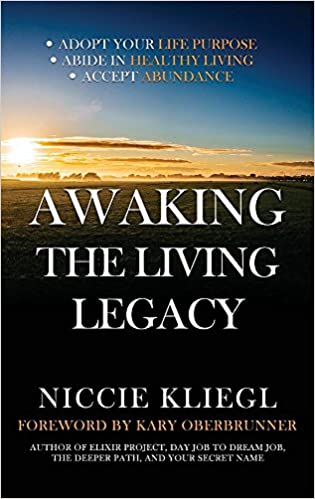 The Legacy Series is a four-part sequential process to elevate and partner your life, home, and community with God. 'Awaking the Living Legacy', book one, gets YOU God partnered. "Embracing the Loving Legacy", book two takes that love to your home for you to impact this lives of those entrusted to you. With the help of the books family convanents you all learn to embody the Word, establishing your steps, and elevating your lives with the help of the Trinity.
Book three is due to be released in the fall of 2021 and will equip individuals to follow in the footsteps of Jesus to carry out their call and the great commission. In 2022, book four will tap each reader into the power of the Holy Spirit for a true impact on God's people and the world.
Niccie's work and what we do at Say Yes to Holiness i ssimilar in the desire to help people live out their faith to the fullest in their daily lives, especially by living out lives of purpose, peace and abundance.
I pray that you find this conversation with Niccie as engaging and inspiring as I did, and that encourages you to share with others the beauty of living a life to the full.
Listen to this special episode of the Say Yes to Holiness podcast
You can connect with Niccie and learn more about her work at her website: https://nicciekliegl.com/
Or purchase her books here on Amazon: Awaking the Living Legacy: Adopt Your Life Purpose, Abide in Healthy Living, Accept Abundance  or Embracing the Loving Legacy: As For Me And My House (The Legacy Series)
The Say Yes to Holiness Transformation Online Summit had more than 30 speakers and panelists come together to focus upon the question of how to "Pivot Towards Our Best Selves" in these challenging times. To access all of the FREE content from the Summit, go to the Say Yes to Holiness YouTube channel to access the Say Yes Summit Speaker Video Playlist, the Summit Discussion Panels, and the Summit Speaker 1 on 1 interviews as they are released.
Christina Semmens is a Roman Catholic author, speaker, and coach and host of the Say Yes to Holiness podcast. She currently lives in Fort Payne, Alabama where she strives to live out a life of authentic discipleship in the pursuit of holiness while empowering, teaching and accompanying others in striving to do the same.
If you want to learn more about how to embrace the life God created you for and discover more purpose, peace and abundance in your daily life, then join me THIS week from June 15th-19th for the FREE Say Yes To Holiness TODAY Masterclass Workshop. To get more information, click to join the Say Yes to Holiness TODAY Facebook group or send an email to: christinasemmens@gmail.com. 
You can also Text to Join the Say Yes to Holiness email list by texting SAYYESTOHOLINESS to 66866 or sign up for the weekly Say Yes to Holinessnewsletter here. You can also listen to additional episodes of the the Say Yes to Holiness podcast or learn more about her ministry efforts at: www.sayyestoholiness.com and www.christinasemmens.com