One positive of still recovering from COVID was the opportunity to watch the Broadway play, now turned movie, Hamilton: An American Musical, at two different points over the holiday weekend. I first had the privilege two summers ago in Atlanta when the Broadway show went on the road, and just like when I experienced it live, the movie of the taped musical was just as powerful.
For those of you who might have missed all the theatrical hubbub over the last four years, Hamilton tells the story of American Founding Father Alexander Hamilton. Wikipedia adds that the play was inspired by the 2004 biography Alexander Hamilton by Ron Chernow; the show's music draws heavily from hip hop, as well as R&B, pop, soul, and traditional-style show tunes; and the show also casts non-white actors as the Founding Fathers and other historical figures. Owing to this use of modern storytelling methods, Hamilton has been described as being about "America then, as told by America now."
Inspired by the lyrics from the musical, here are some of my own Hamilton inspired observations about our current time and place, but especially about how they can inspire, encourage and accompany us during our journey towards holiness.
"History has its eyes on you."
The last several months have been historic indeed. It has been centuries since a pandemic of this magnitude has impacted the world to the extent that COVID-19 has, and the fallout of this pandemic, especially socially and economically, hasn't been felt in our nation in more than two generations.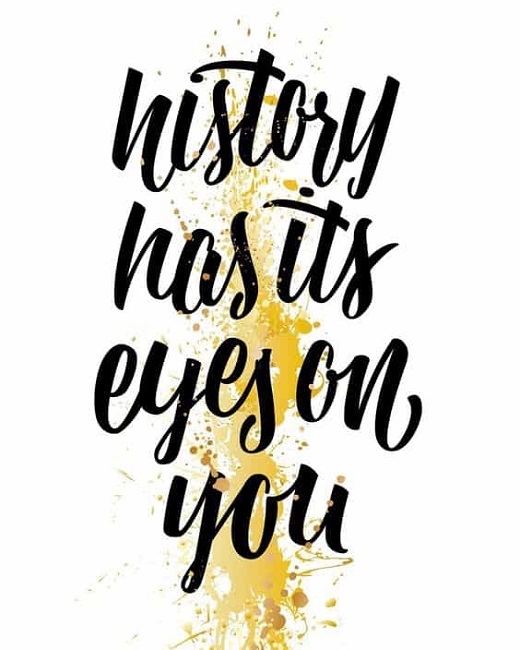 Many people are unaware that I have a Master's degree in History as well as one in theology, and that my chosen historical study of focus was colonial America and the founding years of our nation. This resulted in my receiving a national fellowship from the James Madison Memorial Fellowship Foundation and being named a James Madison Fellow.
This fellowship gave me the opportunity to spend time in Washington, DC for a summer studying the founding documents of our nation in person in the National Archives and also benefitting from the tutelage and instruction of nationally known Constitutional scholars. The result being that I was immersed in the philosophical, political, social and economic forces that were at work during our nation's founding years, plus developed a deep appreciation and respect for the men (and women) responsible for the emergence of our democratic republic and our American "experiment."
For experiment it was, (and it still is!), but what bound all of the Founding Fathers together was the firm conviction in the potential of this nation—despite its inherent flaws that are rooted in its predominantly European intellectual heritage. The conviction that America was capable of becoming more than what Europe ever was—a place where people's lives could be free of the limitations determined by birth, politics, class, race or creed.
And although our nation has yet to live up to its full potential, the fact remains that the American experiment of a democratic republic is still the best chance our world has for that vision to even have the slightest chance of becoming a reality.
"I am just like my country, I am young, scrappy and hungry."
One of the greatest draws about the American opportunity is that it is a young country. and in history's books, America is still young at only 244 years old. In comparison, all of these countries are all far older–Bahrain was established in 1521, Austria in 1156, Morocco in 788, France in 481 and China in 221 BC—to name just a few. 
But youth and its attendant enthusiasm, passion, and virve de joir is not a bad thing. In fact, America is known around the world for it unsinkable optimism and refusal to accept things simply because that's "the way they are." 
It has been, and continues to be this irrepressible spirit to not bow down in the face of what seem to be insurmountable odds that, along with American ingenuity, that are the real reasons America will eventually win the day, and "we shall overcome" the inherent limitations of our time and place.
Hamilton and the Founding Fathers had these characteristics in spades.
But so do we.
We, too, must be young, scrappy, and hungry, not content with comfort, but always striving for the greatness we have been made for–sainthood.
"I am not throwing away my shot"
An integral part of the American experience, especially during its first 150 years, was the irrepressible drive to overcome and prove that we are worth something—in spite of any lack of standard "pedigree." Gone were the usual standards of wealth, property and position, and this has been replaced with the desire to simply have a "shot" to prove that we are each capable, worthy, and are better than someone who was given their shot not from their own merit, but because of something they failed to earn.
This streak of self-reliance has propelled many to achieve greatness in the United States on a scale unseen before in the world. Harriet Tubman once said, "Every great dream begins with a dreamer. Always remember, you have within you the strength, patience, and the passion to reach for the stars and change the world."
This is the essence of what it means to not "throw away your shot," and for those of us who are pursuing holiness, it means that we keep doing whatever it takes to do our part to become the saint that God has created each one of us to be.
"Immigrants, we get the job done."
Marilyn Stasio, in her review of Hamilton for Variety magazine, wrote, "Lin Manuel Miranda's impassioned narrative of one man's story becomes the collective narrative of a nation, a nation built by immigrants who occasionally need to be reminded where they came from."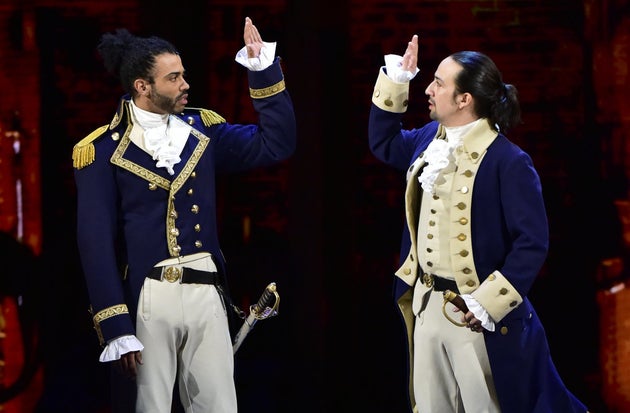 Although this encapsulates the essence of the play, I believe that Father Francis Fernandez summarizes the sentiment far better when he writes in his beautiful reflection series, In Conversation With God, that "Love enables us to discover in others the divine image in whose likeness we have all been made."
This divine image is the essence of all people, including immigrants, and this is why welcoming the immigrant and care for the marginalized is a fundamental tenet of Catholic Social Teaching. Who and what we are is God's sons and daughters–regardless of how much our world tries to divide us into factions or make us less than. When we forget our common humanity, then we become truly less than who and what we are.
To forget this truth is at our peril.
"How do you write like you are running out of time?"
Alexander Hamilton was a driven man. He wanted to take his shot by bettering his position in society, provide for his family, and create a lasting legacy. He was an absolutely prolific writer who created ideas from his vast reading and learning which he then crafted into worlds through his writing. When Hamilton died at the age of 49 as a result of a duel with political rival, Aaron Burr, Hamilton had assured himself a place in our nation's history due to his influential writing of the majority of the Federalist Papers which had successfully secured the ratification of the United States Constitution.
It is this same drive that must be alive in our own lives as we pursue holiness. But rather than a drive for our personal position to be bettered in the world, we need to be motivated and inspired by magninimity. The desire to serve God and His people each and every moment of our days needs to be at the heart of our efforts, so that whenever our death does come to pass, people will look at our lives and marvel at the amount and extent of our efforts to bring about the kingdom of God in our time and place.

"Teach em how to say goodbye."
George Washington's Farewell Address is recognized as a masterpiece of guidance that was given to the young nation at the time of Washington's retirement from public life in 1796. The fact that the Father of our Country desired to act as a father and to bestow upon his American children the wisdom he had gleaned so that the young nation might survive, and it did as evidenced by our presence here today, is testimony to his model of fatherhood–flawed though it might have been.
Rosa Parks once said, "Each person must live their life as a model for others." This is the essence of what Alexander Hamilton, George Washington, and the other Founding Fathers did. Not perfectly, but to the best of their abilities in their time and place. Far too often, we forget that each of us is initially limited by the world in which we find ourselves.
But the great hope of the Christian life is that with God's help and grace, we can move beyond the limitations of today, learn from them, and then share those lessons with others so others can move beyond their limitations of today, too, and together, become who we are meant to be–living, breathing, wonder-working saints.
"Learn to live with the unimaginable"
Alexander Hamilton's life was filled with heartbreak. Although some of it was caused by his own actions–like the circumstances in the aftermath of his scandalous affair–Alexander still found himself through no fault of his own, orphaned by the age of 14; lost countless friends during the Revolutionary War; and then suffered through the death of his eldest son as a result of a duel. These heartbreaks are what it means to "learn to live with the unimaginable."
Each of us suffers heartbreak in this life, too. Although perhaps not on the same scale as Hamilton's, the heartbreaks we suffer are individually devastating and just as painful.
But the great lesson of the spiritual journey is that we are never alone, and nor will we ever be alone in the midst of those heartbreaks. Christ is present in the midst of it all, and it is through, with and in Him, that we have the opportunity to learn how to live with the unimaginable and, in some cases, even be given the grace to find solace and meaning in the midst of them.
"Death doesn't discriminate between sinners and the saints."
Sojourner Truth once said, "Truth is powerful and it prevails." And this piece of truth is similar. Death comes for everyone–sinners and saints, and what we must always remember is that we must be prepared to give an accounting for our life.
Not because God is vindictive and we must "prove" our worthiness to Him so we can be counted among the saints. No, it is because death comes when we least expect it, and therefore, we must live each day as if it is our last day, with no regrets about what we did or did not do, loving the best that we can, especially in imitation of the model given to us by Jesus on the cross.
The world was wide enough."
This is Aaron's Burr's lament in the aftermath of his having killed Alexander Hamilton. That he had failed to realize that whatever grievance he might have had was not worth the taking of a human life.
As we encounter those with whom we may disagree, or who may even seem to oppose us, we must remember that the world is wide enough for all of us.
Jesus sent the Apostles out to teach, preach, and heal—to continue His mission, and the Church continues the mission of Christ to this day. Each of us is a part of this Church, and each of us has been entrusted with a small piece of the Lord's vineyard–a small piece of the world that we are responsible for helping transform into the kingdom of God through God's grace.
Even if it seems that others are preventing us from doing so, we must always remember that they, too, have a sacred mission entrusted to them by God. Therefore, regardless of the challenges we may experience as a result of having to share the world with others–even those who might seem to be diametrically opposed–we must never forget that the world is wide enough.
"Who lives? Who dies? Who tells your story?"
Theologian Hans Urs von Balthasar wrote, "The beautiful stops the viewer in his tracks and then plants within him a desire to speak to others of what he has seen."
This is the power of story. I have been recommending that people take the time to watch Hamilton in the last several days–and I encourage you to do the same as well. Not because I agree with all of what Disney does, or because Hamilton doesn't have its flaws, especially if you are looking for completely "family friendly" entertainment. But Hamilton does accomplish what all great art should do–it has you experience the gamut of human experience, and then it inspires, encourages and challenges you to go and be your best self possible.
This is the power of story at its best, and each of us should strive to lives lives that will stop others in their tracks and cause them to be filled with a desire to tell others what they have seen. You don't need to worry about leaving a legacy. If your life is beautiful enough, your legacy will write and share itself through others telling of it.
"Whenever my time is up—would you have done enough?"
This is the phrase that Eliza Hamilton used to judge whether she had used the time after Alexander's death as well as she possibly could, and we, too, need to be surveying our life and determining how well we are using the time we have been given.
To start, we should try to continue to improve and make our country's current cultural, economic, racial and political struggles move beyond where they have progressed. For although they have not progressed as far as some might have liked it to, our nation HAS made progress. And in order to continue to make any progress, we must strive to listen, learn and love one another as Jesus asked us to do more than two thousand years ago.
Additionally, Venerable Fulton Sheen gives us brilliant wisdom in Life Is Worth Living as to what we should be about in the here and now. "We have formed, and we must continue to form, associations to safeguard freedom, but let us also persuade Americans to form associations which will safeguard our responsibilities. The bane of democracy is the flight from responsibility on which freedom rests. If America is to continue to be great along the tradition of her Founding Fathers and not betray the Christian traditions, her citizens must release, not their evil inclinations from within, but rather the aspiration for total goodness that God put in their hearts."
Simply, we must aspire to holiness personally and collectively.
"Gotta Rise Up"
The best description I have found for how we as people of faith need to "rise up" is again from Father Francis Fernandez. He writes "God allows for our weakness and always forgives us, but we need to be sincere, to repent, and to struggle to rise up again. There is incomparable joy in heaven each time we begin again. Throughout our journey on earth will have to do so many times, because there will always be faults, shortcomings, weaknesses and sins for us to recover from. May we never lack the straightforwardness to acknowledge this and to open our souls to our Lord in the tabernacle and in spiritual direction."
This is our call to holiness. To never forget our need for a Savior, but to never forget the lessons of those like Alexander Hamilton and the Founding Fathers who have come before us. To always have faith that it is possible to become more than we currently are because God has fashioned us to be His saints in the here and now, and it is God who will give us what we need, to do whatever it takes, so we can tell the Master of Death, "Not Today!"
History has its eyes on you.
Say Yes and be the saint God created you to be.
Rise Up!
Christina Semmens is a Roman Catholic author, speaker, and coach and host of the Say Yes to Holiness podcast. She currently lives in Fort Payne, Alabama where she strives to live out a life of authentic discipleship in the pursuit of holiness while empowering, teaching and accompanying others in striving to do the same.
If you want to learn more about how to embrace the life God created you for and discover more purpose, peace and abundance in your daily life, then click to join the Say Yes to Holiness TODAY Facebook group or send an email to: christinasemmens@gmail.com.
You can also Text to Join the Say Yes to Holiness email list by texting SAYYESTOHOLINESS to 66866 or sign up for the weekly Say Yes to Holinessnewsletter here. You can also listen to additional episodes of the the Say Yes to Holiness podcast or learn more about her ministry efforts at: www.sayyestoholiness.com and www.christinasemmens.com