It's been a long time coming, but my book, Say Yes: Discovering Purpose, Peace and Abundance in Daily Life was just released as a Kindle book today on Amazon! Happy Feast of Or Lady of Carmel!
Just so you are aware, the Kindle version is advertised as a "Bilingual English and Spanish edition" and "Spanish edition". All this means is that the Kindle book (and eventually the print copy) will automatically include the Spanish version as well as the English version. Amazon has no way to advertise a blingual book, so they had to create the category for me! But the takeway for you is that when you order the Bilingual/Spanish Edition you ARE ordering the English copy–you just are going to get 2 books for the price of one! LOL
Print copies will be available for presale beginning next week on Amazon and I am told that they will then be available to ship by August.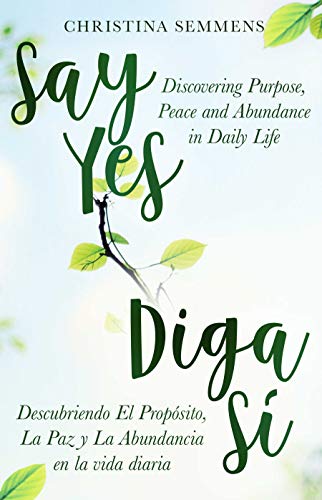 For those of you who preordered my book and the bonuses through my website during the last few months (THANK YOU AGAIN!), know that I will be sending out the eBook file via email to you over the weekend. In the interim, you can use the "Look Inside" feature on Amazon and that gives you access to the first 4 and 1/2 chapters, so hopefully that will tide you over until you receive your eBook copy in the next few days! Then as soon as I receive my print copies, I will be sending out your books.
I will be sending out more information about the official book "launch" along with the bonuses in the next few weeks.
For those of you who read and enjoy the book, I would be MOST appreciative of a review and any comments that you would like to leave on Amazon, especially if you share any way that the book helped you on the journey to Say Yes to Holiness!
Christina Semmens is a Roman Catholic author, speaker, and coach and host of the Say Yes to Holiness podcast. She currently lives in Fort Payne, Alabama where she strives to live out a life of authentic discipleship in the pursuit of holiness while empowering, teaching and accompanying others in striving to do the same.
If you want to learn more about how to embrace the life God created you for and discover more purpose, peace and abundance in your daily life, then click to join the Say Yes to Holiness TODAY Facebook group or send an email to: christinasemmens@gmail.com.
You can also Text to Join the Say Yes to Holiness email list by texting SAYYESTOHOLINESS to 66866 or sign up for the weekly Say Yes to Holinessnewsletter here. You can also listen to additional episodes of the the Say Yes to Holiness podcast or learn more about her ministry efforts at: www.sayyestoholiness.com and www.christinasemmens.com