Another Say Yes to Holiness Summit panelist from this spring's Say Yes to Holiness Tranformation Online Summit is Katherine Haghighi.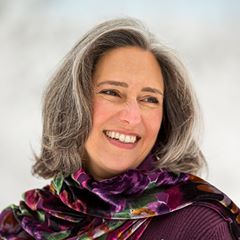 Katherine is a trained music therapist who worked in hospice care for 15 years. Her experience with patients and their families greatly impacted her work as she transitioned from working in the field directly to educating professionals about hospice care. Meeting with physicians, health care facility directors and insurance companies about hospice care continually shed light the lessons she had learned from patients young and old. Katherine earned her music education and music therapy degree from the College of Wooster and the Cleveland Music Therapy Consortium. Further study continued while interning at the University of Texas Medical Branch at Galveston where her music therapy skills were refined in the areas of adult rehabilitation, child psychology, pediatric burns and pediatric oncology.
This experience led Katherine to become interested in working with children and adults who were suffering loss due to terminal illness. Katherine earned her Master's degree from Case Western Reserve University in Cleveland, Ohio. She has presented her work nationally and internationally, authoring and co-authoring journal
articles, chapters and a multitude of presentations in the areas of music therapy, loss, difficult conversations and cultural diversity.
She currently lives and writes in Anchorage, Alaska where she and her husband have chosen to raise their 3 daughters, and writes beautiful poetry. One of her poems, "On the Lilt of the Wind" was published recently on the 49 Writers blog. (You can read her poem here)
Katherine and Christina first met through the Fire Ring Mastermind Group. Fire Ring is a group that focuses upon helping authors and other thought leaders take their message and create the means through which they can share the message more effectively with others through books, business, social and ministry efforts and projects.
In this special episode of the Say Yes to Holiness podcast, Katherine and Christina continue the conversation begun during the Say Yes Summit, by focusing upon what it is to be truly present to another person, and how quiet surrender is the key to growth.
Katherine shared, "When we are in deep presence with ourselves and with each other, within al the chaos at the end of life, there is that quiet surrender…there is an opportunity of growth and who we are becoming next…"
It is this ministry of presence that we dived deep into as Katherine brings a diversity of background and experience abour what it means to be present, witness and accept others on a deep level.
Katherine's profound insights, along with our shared love for great books and music, made this an enjoyable and delightful conversation that was truly edifying for my heart, mind and soul.
I hope you find the experience of listening to our conversation to have a similar impact in your life, and that it fills you with great hope for our shared journey together as human beings on this road that we call life.
Listen to this special episode of the Say Yes to Holiness podcast
Or you can watch the interview here on the Say Yes to Holiness YouTube Channel
To connect with Katherine, you can connect through her Facebook page here
Here is one of Katherine's recent music recommendations–"Sing Gently" on YouTube
The Say Yes to Holiness Transformation Online Summit had more than 30 speakers and panelists come together to focus upon the question of how to "Pivot Towards Our Best Selves" in these challenging times. To access all of the FREE content from the Summit, go to the Say Yes to Holiness YouTube channel to access the Say Yes Summit Speaker Video Playlist, the Summit Discussion Panels, and the Summit Speaker 1 on 1 interviews as they are released.
Christina Semmens is a Roman Catholic author, speaker, and coach and host of the Say Yes to Holiness podcast. She currently lives in Fort Payne, Alabama where she strives to live out a life of authentic discipleship in the pursuit of holiness while empowering, teaching and accompanying others in striving to do the same.
If you want to learn more about how to embrace the life God created you for and discover more purpose, peace and abundance in your daily life, then make sure to get a copy of Christina's new book on Amazon: Say Yes: Discovering Purpose, Peace and Abundance in Daily Life, and become part of the Say Yes to Holiness Movement and participate in the Say Yes to Holiness Today 40 Day Challenge by clicking to join the Say Yes to Holiness TODAY Facebook group or learn more about the Say Yes to Holiness Movement on the web, or you can simply send an email to: christinasemmens@gmail.com.
You can Text to Join the Say Yes to Holiness email list to receive the Say Yes to Holiness Newsletter, be notified whenever Christina posts, and find out about upcoming events by texting SAYYESTOHOLINESS to 66866 or sign up for the weekly Say Yes to Holiness newsletter here.
You can also listen to episodes of the Say Yes to Holiness podcast here. You can learn more about her ministry efforts at: www.sayyestoholiness.com and www.christinasemmens.com