Greetings!
I am SUPER excited because my talk, entitled, 'Seven Characteristics All Saints Have (And You Can Too!)' is now live for you to watch as part of the Modern Saints: Missions from God Online Conference.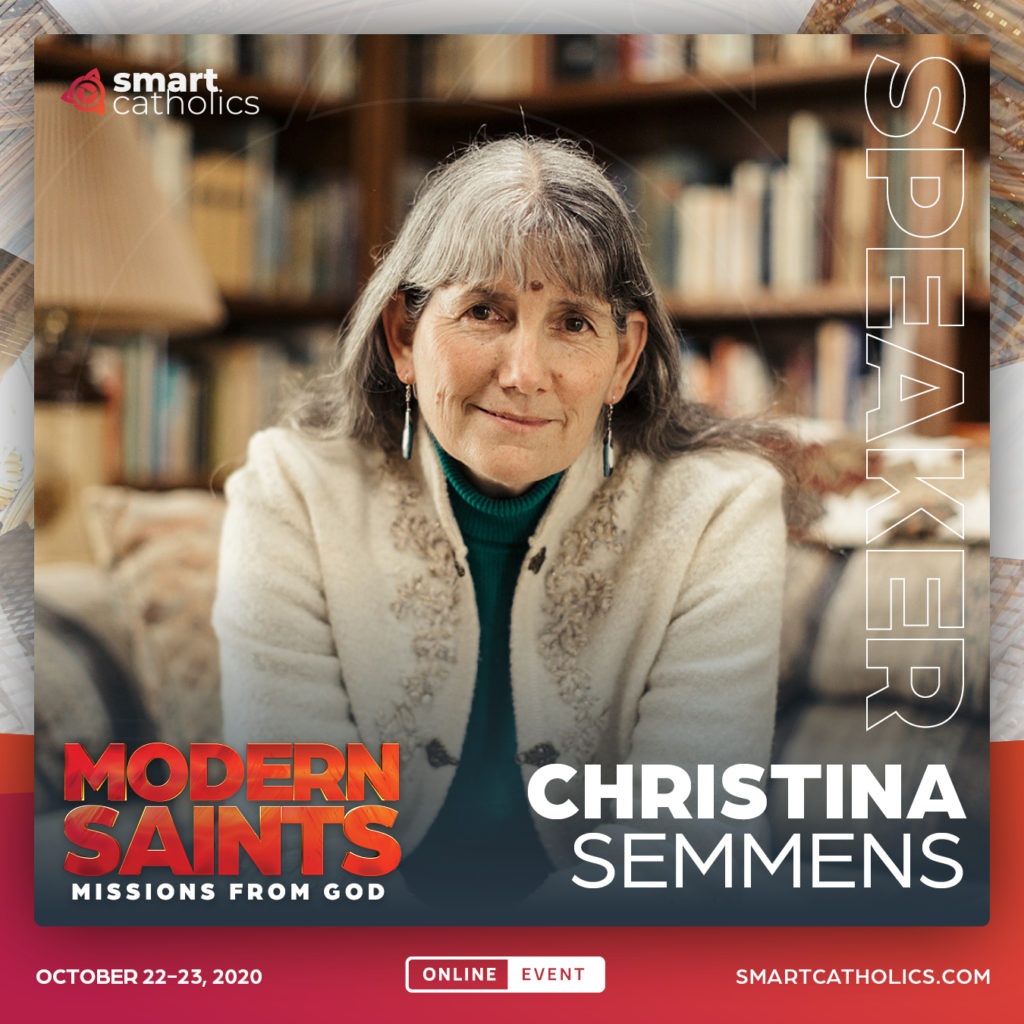 Please go watch it, and then reach out and tell me what you think either here on my blog, or on the Say Yes to Holiness FB page.
And when you go to the link above where my talk is, you can ALSO watch 9 more videos from the conference for free. 
In fact, you can watch everything for free when you join the conference community – SmartCatholics. 
So, just go to https://smartcatholics.com/modern-saints to register and get instant access. 
I am hosting two Q&A sessions and a speaker panel during the conference today and tomorrow, so I hope that you come and join me for what is shaping up to be a phenomenal event!
Then, can I ask a HUGE favor?
Can you share this conference with your friends? Share it in  your favorite groups, send it to your email list or prayer chains.  
Example text/email for you to copy/paste and share:
Each century, the Church gives us real-life examples of holiness. Saints are missions from God to the modern world! Join this online conference and community at SmartCatholics.com to find out how you can live your own mission of holiness today. The world needs what you have to give!
THANK YOU to everyone in the Say Yes Community for your continued support and hope to see you online during the conference!
Christina Semmens is a Roman Catholic author, speaker, and coach and host of the Say Yes to Holiness podcast. She currently lives in Fort Payne, Alabama where she strives to live out a life of authentic discipleship in the pursuit of holiness while empowering, teaching and accompanying others in striving to do the same.
If you are enjoying these posts, make sure to get a copy of Christina's latest book, Say Yes: Discovering Purpose, Peace and Abundance in Daily Life either on the Say Yes to Holiness website, or here on Amazon.
Also, if you want to learn more about how to embrace the life God created you for and discover more purpose, peace and abundance in your daily life, then become part of the Say Yes to Holiness Movement! You can do that by clicking here to join the Say Yes to Holiness TODAY Facebook group or by checking out all of the FREE challenges, events and Materclasses that are available at the Say Yes to Holiness Movement on the web.
To stay in the know about all of the upcoming FREE challenges, events and Masterclasses, text SAYYESTOHOLINESS to 66866 to join the Say Yes to Holiness email list and receive not only the Say Yes to Holiness Newsletter, but also be notified whenever Christina posts. Or sign up here for the weekly Say Yes to Holiness newsletter.
Don't forget to check out and listen to episodes of the Say Yes to Holiness podcast here, or go to the Say Yes to Holiness YouTube channel for lots of videos to help you grow in holiness and make your faith an integrated part of your daily life. More information can also be found at: www.sayyestoholiness.com and www.christinasemmens.com