Marek Rudak was born and grew up in communist Poland. He lost his dad at a young age. When he was fourteen, his mom remarried, and Marek moved to California.
He came to feel like he was the fifth wheel in his new family. This led him toward a desire to control others by focusing on earning his worth through personal accomplishments.
Marek graduated in the top 10% of his class at West Point and became a Ranger in the 82nd Airborne Division, where he deployed to Iraq and Afghanistan. After receiving an honorable discharge from the Army, Marek went with the highest paying job he could find, ExxonMobil, where he worked for ten years on multi-billion-dollar projects all over the world.
A tough divorce led Marek to a lot of soul searching and multiple life changes. After meeting the love of his life, Marek decided to quit his job and commit himself full time to the mission of improving men's love proficiency.
The Love-Driven Man
All of this led Marek to write his book, The Love-Driven Man. He explained how our experiences shapes who we are and what we believe, and how when we feel like something is missing, then we have to change our routines to find fresh perspectives. So he set out to share the key to how to go about that.
After reading The Love Driven Man, you will recognize how our minds' desire to control blinds us to options and results in fear. The book will guide you through a series of questions that will help you make more fulfilling choices – Love Driven decisions that will bring you closer to God and what matters eternally.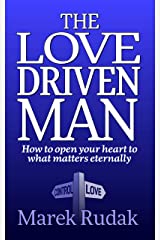 In the book, Marek shares vulnerable stories ranging from his time in communist Poland, through West Point, Corporate America, divorce, dating, finding true love to entrepreneurship. Along the way, you will find fascinating vignettes from historical figures, celebrities as well as classical fiction. The diversity of examples will give you new insights and inspire you to take action. All which will help you avoid the disadvantages of control and bring more love into your life.
In a particular way, Marek and I discussed the great need for men to be able to become the kind of man that they had, or in Marek's words, "To become the miracle that you had" so that all men can become the strong, love-driven men God created each man to be.
Marek's and my conversation was extremely edifying, and especially timely in a world that is demanding a new perspective almost daily. I pray that this conversation brings you much enlightenment and prompts you to do whatever you can (gifting a copy of Marek's book would be a start!) for each man in your life so he can be the Love-Driven Man he is created to be.
You can listen to the latest episode of the Say Yes to Holiness podcast here
Or to watch the interview on YouTube, click here.
You can find out more about Marek at: www.marekrudak.com
Or find out more about his book, The Love-Driven Man
Christina Semmens is a Roman Catholic author, speaker, and coach and host of the Say Yes to Holiness podcast. She currently lives in Fort Payne, Alabama where she strives to live out a life of authentic discipleship in the pursuit of holiness while empowering, teaching and accompanying others in striving to do the same.
If you want to learn more about how to embrace the life God created you for and discover more purpose, peace and abundance in your daily life, then make sure to get a copy of Christina's new book on Amazon: Say Yes: Discovering Purpose, Peace and Abundance in Daily Life or you can purchase a copy at www.sayyestoholiness.com.
You are also invited to become a part of the Say Yes to Holiness Movement by joining the Say Yes to Holiness TODAY Facebook group and by selecting how to participate from among the many options found within the Say Yes to Holiness Movement. Or if you want to simply talk about next steps for your spiritual life, you can set up a free consult with me here.
You can Text to Join the Say Yes to Holiness email list to receive the Say Yes to Holiness Newsletter, be notified whenever Christina posts, and find out about upcoming events by texting SAYYESTOHOLINESS to 66866 or sign up for the weekly Say Yes to Holiness newsletter here.
You can also listen to additional episodes of the Say Yes to Holiness podcast here.