On this 9th day of Christmas, which also happens to be a First Saturday, the gifts I have for you are inspired by both our Lady, Mary, Mother of God, and the Nine Ladies Dancing–who in the Twelve Days of Christmas song are representative of the fruits of the Holy Spirit.
So, my 9 gifts to you are:
2. Interview with Blythe Kaufman, Founder of the Children's Rosary Movement Say Yes to Holiness YouTube Video
3. The Children's Rosary Movement's PDF of "How To Pray the Rosary"
4. Link to Families of Character "Organization Guide To Bring Peace To Your Home"
5. Link to a Families of Character Resource "5 Positive Outcomes of Developing Virtues"
6.  Link to a Family Game from Families of Character–"Kindness Bingo"
7.  M3 Catholic's Reflection Sheet on The Gifts of the Holy Spirit
8. Matthew Kelly of Dynamic Catholic YouTube video "The Fruits of the Holy Spirit"
9. Matthew Kelly of Dynamic Catholic YouTube video, "Unopened Gifts"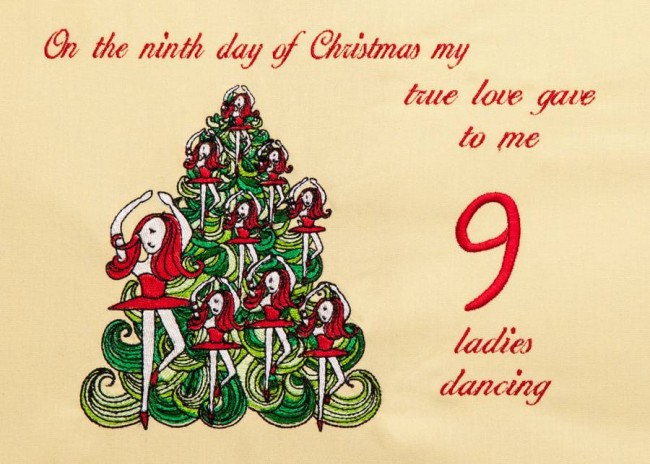 As you may notice, I am pointing you towards my own Say Yes to Holiness blog and YouTube channel today in order to highlight another Apostolate–The Children's Rosary Movement and a new book just released by Blythe Kaufman, the founder of that apostolate, entitled, Child Consecration To Jesus Through Mary.
Additionally, I am providing links to some wonderful resources offered by two additional apostolates that you need to be aware–Families of Character and Dynamic Catholic.
Families of Character is committed to providing families the best tools to make home the most loving and unified place for children to grow. The goal is for them to understand that even if their family life feels off course or divided, change is always possible. Families of Character accomplishes this by exploring the design of parents, the relational environment of home, and how to develop strong character traits within everyone in the family. All of these things lead to healthy relationships, more empathy and understanding, and, ultimately, becoming better parents and raising functional adults.
Dynamic Catholic is led by Matthew Kelly, an Australian born evangelizer who has made it his life's mission to try and make sure that every Catholic has access to the very best resources available, and it's why Dynamic Catholic strives to create the most effective programs that the Church—and the world—has ever seen. And many times, Dynamic Catholic makes those resources available to every Catholic and parish for free.
I pray that each of these resources help you continue to celebrate the Christmas season, and also empower you to live out 2021 with purpose, peace and abundance!
PS–A reminder that one way that you can start 2021 on the right foot, and make 2021 a year to remember is by signing up for the Unhackable Catholics Book Club that will be happening in the Say Yes to Holiness group in SmartCatholics beginning on Thursday, January 7th (the day after Epiphany!)
Unhackable Catholics Book Club Sign Up in Smart Catholics
The 30 Day Unhackable Catholics Book Club will be discussing the book, Unhackable, by Kary Oberbrunner. The book itself is broken down into 30 days, so each morning, the group will gather briefly to watch a video from the author Kary Oberbrunner and to share with one another insights from the prior day's challenge (given at the end of each day/chapter in the book).
Throughout the day, Unhackable Catholic Book Club members are encouraged to post and continue the conversation by sharing about what steps they are taking to become Unhackable in work and life.
(And here is a Link to purchase Unhackable book on Amazon so you are ready to participate in the Book Club on January 7th!)
Christina Semmens is a Roman Catholic author, speaker, and coach and host of the Say Yes to Holiness podcast. She currently lives in Fort Payne, Alabama where she strives to live out a life of authentic discipleship in the pursuit of holiness while empowering, teaching and accompanying others in striving to do the same.
If you are enjoying these posts, make sure to get a copy of Christina's latest book, Say Yes: Discovering Purpose, Peace and Abundance in Daily Life either on the Say Yes to Holiness website, or here on Amazon.
Also, if you want to learn more about how to embrace the life God created you for and discover more purpose, peace and abundance in your daily life, then become part of the Say Yes to Holiness Movement! You can do that by either clicking here to join the Say Yes to Holiness Community group hosted on SmartCatholics, or if you prefer Facebook, you can join the Say Yes to Holiness TODAY Facebook group here. Finally, make sure to check out all of the FREE challenges, events and Materclasses that are available at the Say Yes to Holiness Movement on the web.
To stay in the know about all of the upcoming FREE challenges, events and Masterclasses, text SAYYESTOHOLINESS to 66866 to join the Say Yes to Holiness email list and receive not only the Say Yes to Holiness Newsletter, but also be notified whenever Christina posts. Or sign up here for the weekly Say Yes to Holiness newsletter.
Don't forget to check out and listen to episodes of the Say Yes to Holiness podcast here, or go to the Say Yes to Holiness YouTube channel for lots of videos to help you grow in holiness and make your faith an integrated part of your daily life. More information can also be found at: www.sayyestoholiness.com and www.christinasemmens.com