On this 10th day of Christmas, my gift to you revolves around the Ten Lords a Leaping–who in the Twelve Days of Christmas song are representative of the Ten Commandments. In addition, I also have had the privilege of praying and working alongside members of a women's religious community that is very near and dear to my heart–the Sister Servants of the Eternal Word (SSeW) who are located at Casa Maria Convent and Retreat House in Irondale, Alabama.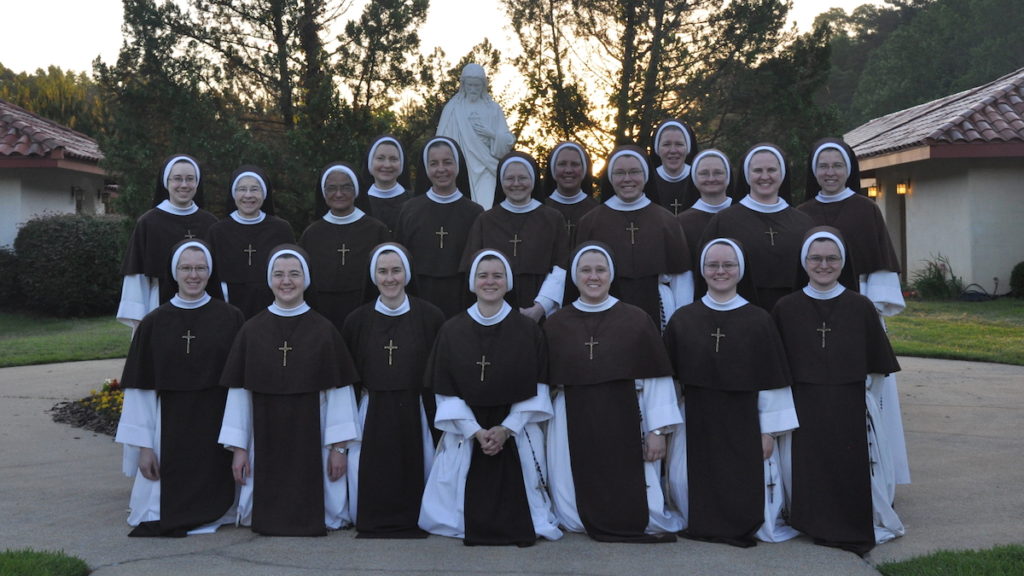 The Sister Servants of the Eternal Word is a public association of the faithful founded by Mother Mary Gabriel Long in 1987. The community is contemplative-active, committed to evangelization through catechesis and retreats, according to the ideals of St. Francis and St. Dominic who rebuilt the Church in Truth and Charity.
Holy Mother Church always includes Francis and Dominic together in the Litany of the Saints. St. Francis and St. Dominic are examples of poverty and learning as well as their heroic obedience to the Pope and to the Magisterium of the Church. The unity of their hearts in Jesus Christ and their loving devotion to His Immaculate Mother typify the unity, love and zeal that gave impetus to and sealed their friendship.
The Sister Servants run Casa Maria Retreat House, and also participate in family catechesis, Sacramental preparation, and other catechetical missions throughout the diocese, teaching "spiritual things spiritually." (1 Cor 2:13) They invoke the Blessed Virgin Mary to pray for them and accompany them in their apostolate. They encourage true devotion to her and zealously promote her Holy Rosary. (cf. Constitutions).
Because of the Sister Servants focus upon evangelization through catechesis and retreats, it is extremely appropriate to be sharing their efforts with you to help bring others to Christ while ensuring they are given the opportunity to receive and experience the rich catechetical tradition of the Church–of which the Ten Commandments are a intrinsic and irreplaceable part.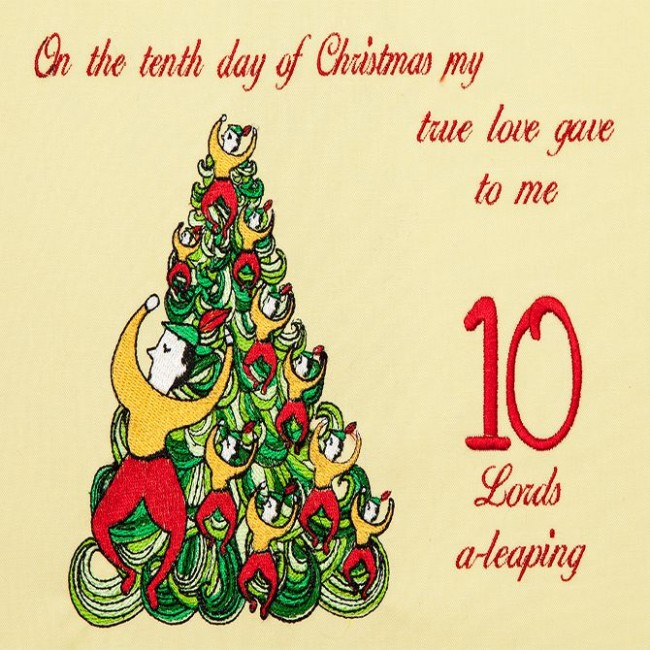 So, today, on this 10th Day of Christmas, my 10 gifts to you are from both my own ministry and from the ministry and work of the Sister Servants. Enjoy!
2. Examination of Conscience using the Ten Commandments
3. Link to Aleteia article and Video of Sister Servants rendition of "I'll Fly Away"
4. Link to Sister Servants singing of Las Mananitas in honor of Our Lady of Guadalupe
5. Link to Sister Servants singing of Vespers at Cathedral of St Paul in Birmingham, Alabama
6.  Link to audio recordings of weekend retreat held at Casa Maria, "St Joseph: The Man and the Saint"
7.  Link to Video of Sr Rita Marie's 10 Books for Your Spiritual Growth
8. Link to Video Tour of Casa Maria Convent and Retreat House
9. Link to Video Talk by Sr Mary Anthony "The Rosary as our Weapon in Our Spiritual Battle and the Battle of Lepanto"
10. Link to Sister Servants Blog Page
May your Christmas season continue to be filled with many blessings!
PS–A reminder that one way that you can start 2021 on the right foot, and make 2021 a year to remember is by signing up for the Unhackable Catholics Book Club that will be happening in the Say Yes to Holiness group in SmartCatholics beginning on Thursday, January 7th (the day after Epiphany!)
Unhackable Catholics Book Club Sign Up in Smart Catholics
The 30 Day Unhackable Catholics Book Club will be discussing the book, Unhackable, by Kary Oberbrunner. The book itself is broken down into 30 days, so each morning, the group will gather briefly to watch a video from the author Kary Oberbrunner and to share with one another insights from the prior day's challenge (given at the end of each day/chapter in the book).
Throughout the day, Unhackable Catholic Book Club members are encouraged to post and continue the conversation by sharing about what steps they are taking to become Unhackable in work and life.
(And here is a Link to purchase Unhackable book on Amazon so you are ready to participate in the Book Club on January 7th!)
Christina Semmens is a Roman Catholic author, speaker, and coach and host of the Say Yes to Holiness podcast. She currently lives in Fort Payne, Alabama where she strives to live out a life of authentic discipleship in the pursuit of holiness while empowering, teaching and accompanying others in striving to do the same.
If you are enjoying these posts, make sure to get a copy of Christina's latest book, Say Yes: Discovering Purpose, Peace and Abundance in Daily Life either on the Say Yes to Holiness website, or here on Amazon.
Also, if you want to learn more about how to embrace the life God created you for and discover more purpose, peace and abundance in your daily life, then become part of the Say Yes to Holiness Movement! You can do that by either clicking here to join the Say Yes to Holiness Community group hosted on SmartCatholics, or if you prefer Facebook, you can join the Say Yes to Holiness TODAY Facebook group here. Finally, make sure to check out all of the FREE challenges, events and Materclasses that are available at the Say Yes to Holiness Movement on the web.
To stay in the know about all of the upcoming FREE challenges, events and Masterclasses, text SAYYESTOHOLINESS to 66866 to join the Say Yes to Holiness email list and receive not only the Say Yes to Holiness Newsletter, but also be notified whenever Christina posts. Or sign up here for the weekly Say Yes to Holiness newsletter.
Don't forget to check out and listen to episodes of the Say Yes to Holiness podcast here, or go to the Say Yes to Holiness YouTube channel for lots of videos to help you grow in holiness and make your faith an integrated part of your daily life. More information can also be found at: www.sayyestoholiness.com and www.christinasemmens.com