Emily K Whiting and first crossed paths in the midst of the God is Mercy conference held in SmartCatholics. As I learned Emily's story, I discovered we as many things in common, and I knew that I needed to have her on to the Say Yes to Holiness podcast.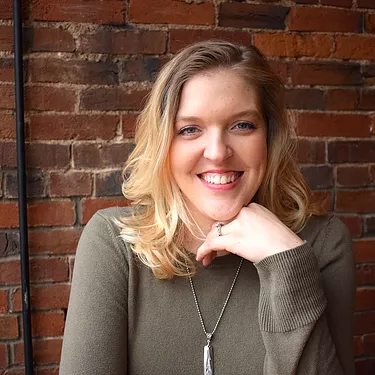 Emily is a born and raised Catholic but it wasn't until college that she grew to know Jesus on a deeply personal level. She has a bachelor of science degree in agriculture communications and minors in animal science and psychology, but she eventually transitioned into a marketing and journalism career.
Emily is a speaker and writer whose mission is simple: to lead God's people into a deepened relationship with Him by seeing them for who they are and loving them for who He created them to be. In her writings and talks, she gets real. Real about life, real about love and real about faith. And this is why her ministry's tagline is "Real Life, Real Love, and Real Faith."
During our conversation, Emily shares what she has most recently been doing, but especially how God has been working in her life to continue to transform her and her ministry to have a special focus upon helping families similar to her own who have the blessing and challenge of a "medical child." The "medical child" is one with special health/medical needs, and the result is the necessity of having to navigate the byzantine maze of medical, insurance, health and wellness worlds as both advocate and parent, and the challenges inherent in that journey, but finding God's grace in the midst of all of it.
The conversation was full of much joy and encouragement, and reminded me of how God works all things in our lives to the good, and that we need to continuously be seeking to accompany others by simply sharing the lessons we have learned from our journey with others so that together, we bear the burdens of this life, as we prepare for the next.
I pray that you find this conversation to be as encouraging and uplifting as I did, and that it helps you continue to grow closer to God and become more like Jesus with each passing day.
Listen to the latest episode of the Say Yes to Holiness podcast here
Or to watch the interview on YouTube, click here
You can find out more and connect with Emily here
I am also excited that Emily is one of the speakers and panelists for the Say Yes to Holiness Winter Summit that begins tomorrow and is happening throughout the week of January 18-22nd.
All of the Summit speaker videos and panel discussions are absolutely FREE Register here
And don't forget to sign up for the upcoming Say Yes Winter Summit!
Christina Semmens is a Roman Catholic author, speaker, and coach and host of the Say Yes to Holiness podcast. She currently lives in Fort Payne, Alabama where she strives to live out a life of authentic discipleship in the pursuit of holiness while empowering, teaching and accompanying others in striving to do the same.
If you are enjoying these posts, make sure to get a copy of Christina's latest book, Say Yes: Discovering Purpose, Peace and Abundance in Daily Life either on the Say Yes to Holiness website, or here on Amazon.
Also, if you want to learn more about how to embrace the life God created you for and discover more purpose, peace and abundance in your daily life, then become part of the Say Yes to Holiness Movement! You can do that by either clicking here to join the Say Yes to Holiness Community group hosted on SmartCatholics, or if you prefer Facebook, you can join the Say Yes to Holiness TODAY Facebook group here. Finally, make sure to check out all of the FREE challenges, events and Materclasses that are available at the Say Yes to Holiness Movement on the web.
To stay in the know about all of the upcoming FREE challenges, events and Masterclasses, text SAYYESTOHOLINESS to 66866 to join the Say Yes to Holiness email list and receive not only the Say Yes to Holiness Newsletter, but also be notified whenever Christina posts. Or sign up here for the weekly Say Yes to Holiness newsletter.
Don't forget to check out and listen to episodes of the Say Yes to Holiness podcast here, or go to the Say Yes to Holiness YouTube channel for lots of videos to help you grow in holiness and make your faith an integrated part of your daily life. More information can also be found at: www.sayyestoholiness.com and www.christinasemmens.com