Greetings!
We are now into the third week of Lent, so thought it was important to remind us of the opportunities that are present within this great and holy season for growing in holiness. So, this week's addition to the Connections Between Faith and Daily Life YouTube series focuses upon the three great opportunities of Lent.
Enjoy watching "The Three Great Opportunities of Lent"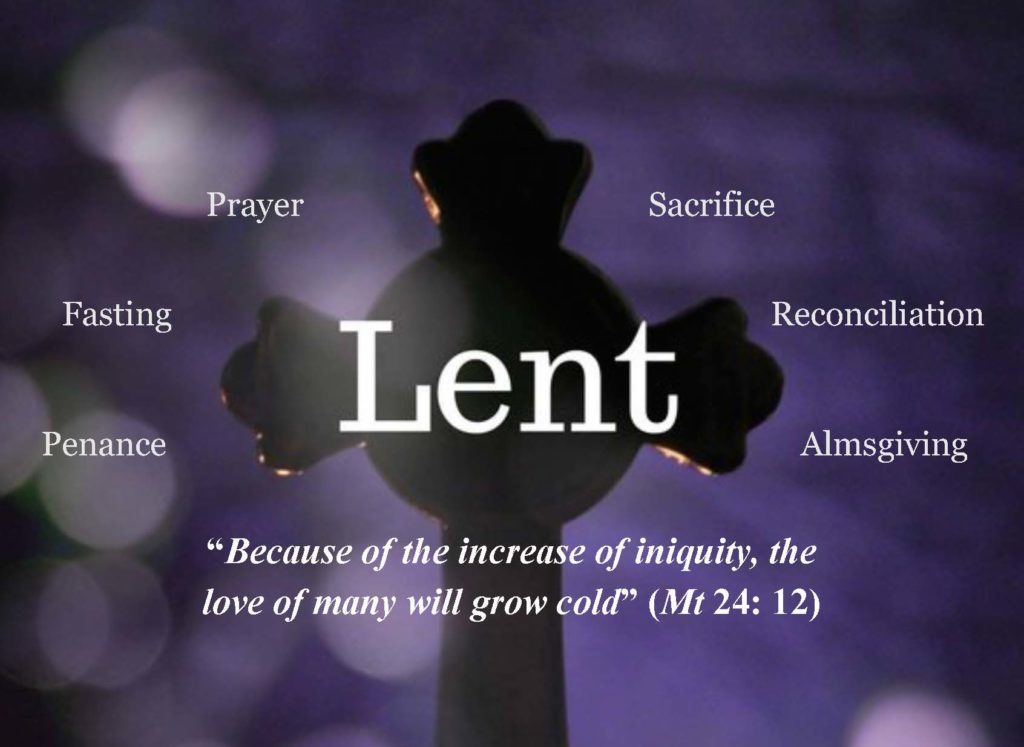 Specifically, this video addresses how you can use this Lenten season to make serious progress in your interior life by growing in detachment, growing in your love of Christ, and fulfilling your desire for eternal happiness, so be sure to check it out!
Enjoy watching "The Three Great Opportunities of Lent"
And in case you missed last week's video in the Connections Between Faith and Life series, here is:
"7 Weapons You Need To Be Capable of Victory In Any Spiritual Battle"
And here are three opportunities for you to consider as we continue our Lenten journey:
1) Do the Say Yes to Holiness 40 Day Challenge! The 40 Day Challenge can be started at anytime. You can sign up and then an email will be sent to you each day with a short reading and reflection, and suggested resolution for that day. The Challenge uses Christina's book, Say Yes: Discovering Purpose, Peace and Abundance in Daily Life.
​Sign up for 40 Day Say Yes to Holiness Challenge here. ​
2) Are you ready to FINALLY get serious and intentional about your spiritual life? Then SAY YES and participate in the Camino!
What is the Camino? It is a place where…
1) you can do a deep dive into your spiritual life alongside a small group of people striving for holiness
2) implement a process that is designed to help you systematically ensure that you are integrating your faith life fully into your daily life
3) receive customized mentoring, results-driven accountability, personalized coaching support, and training on-demand that fits your busy schedule
4) helps you STOP putting off making your spiritual life a priority in your life
5) is an environment in which you can experience transformative change in your life
If this sounds like something you are interested AT ALL, then sign up for a Camino consultation. This is not a hard sales call pushing you to do something you don't want to do, but rather is a 15 minute call designed to help you determine if the Camino is a good fit for you, and if not, possible next best steps for you on your spiritual journey.
​Sign Up for a Camino Consultation​
More information about the Camino can be found at the El Camino page at: www.sayyestoholiness.com/el-camino​
3) Schedule a FREE 15 minute consultation with me. Just like my Camino consultations, I am seeing to help you gain clarity on what you are seeking and how to go deeper in your spiritual life, so reach out and let's talk today!
Christina Semmens is a Roman Catholic author, speaker, and coach and host of the Say Yes to Holiness podcast. She currently lives in Fort Payne, Alabama where she strives to live out a life of authentic discipleship in the pursuit of holiness while empowering, teaching and accompanying others in striving to do the same.
PS–Have you gotten your copy of my book, Say Yes: Discovering Purpose, Peace and Abundance in Daily Life yet? You can purchase the book on Amazon in paperback, hardback and Kindle, or you can receive book bonuses by ordering my book online through my website. ​
If you have already read my book, PLEASE take 5 minutes and post reviews on Amazon, share with your friends, and invite them to join the Say Yes to Holiness Today FB group, so they can benefit from all of what is going on within the Say Yes Movement.
PPS–To stay in the know about all of the upcoming FREE challenges, events and Masterclasses, join the Say Yes to Holiness email list and receive not only the Say Yes to Holiness Newsletter, but also be notified whenever Christina posts. Sign up here for the weekly Say Yes to Holiness newsletter.
Don't forget to check out and subscribe to the Say Yes to Holiness podcast. You can listen to the latest episodes of the podcast on ITunes, Spotify and Anchor. Bonus episodes of my podcasts are released through my email list, and that is also how notifications concerning upcoming events are announced, so make sure not to miss out on anything in the weeks ahead!
Don't forget to check out and listen to episodes of the Say Yes to Holiness podcast here, or go to the Say Yes to Holiness YouTube channel for lots of videos to help you grow in holiness and make your faith an integrated part of your daily life.
More information about Say Yes to Holiness can be found at: www.sayyestoholiness.com, along with articles on the Say Yes Blog, follow me on Instagram at: christinasemmens or on Clubhouse @csemmens.