Yesterday, I had the great privilege of being on the Living Catholic! podcast and YouTube show hosted by Dr. David Anders. We spoke about the "Vocation to Personal Holiness" and how we might practically go about living our personal vocation in daily life.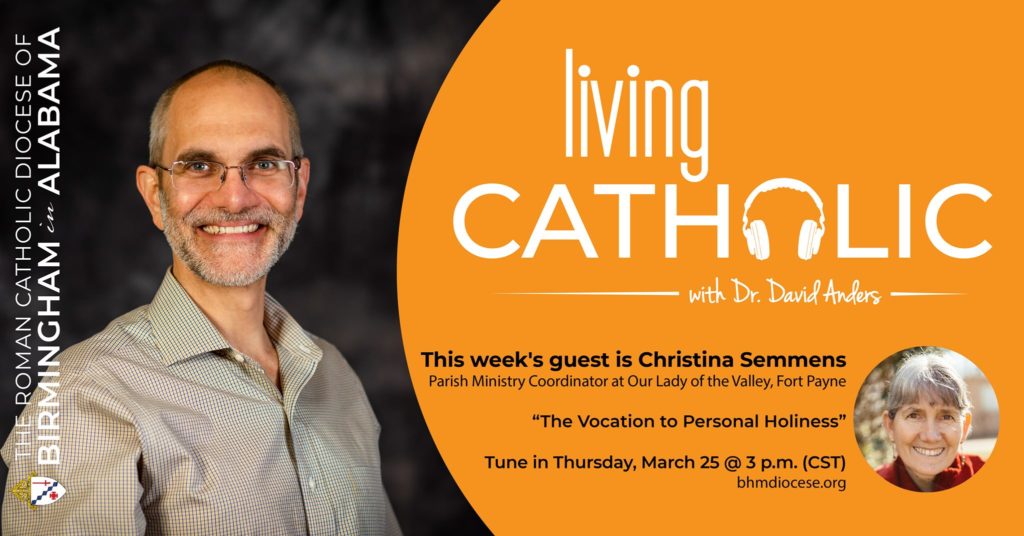 Our conversation was wide-ranging as we spoke about what holiness means, the tools that the Church gives us to pursue holiness, the importance of friendship and mentors, how the Eucharist plays a key role in our journey, and more!
You can listen to our entire conversation here!
I thoroughly enjoyed my time with Dr. Anders, but my hope is that you enjoy listening to our conversation as much as I had in having it. May it help inspire, encourage and accompany you in your journey towards holiness, especially as we prepare to enter the holiest of weeks.
Christina Semmens is a Roman Catholic author, speaker, and coach and host of the Say Yes to Holiness podcast. She currently lives in Fort Payne, Alabama where she strives to live out a life of authentic discipleship in the pursuit of holiness while empowering, teaching and accompanying others in striving to do the same.
Click here to sign up for a FREE 15 minute consultation with Christina
If you are enjoying these posts, make sure to get a copy of Christina's latest book, Say Yes: Discovering Purpose, Peace and Abundance in Daily Life either on the Say Yes to Holiness website, or here on Amazon.
Also, if you want to learn more about how to embrace the life God created you for and discover more purpose, peace and abundance in your daily life, then become part of the Say Yes to Holiness Movement! You can do that by either clicking here to join the Say Yes to Holiness Community group hosted on SmartCatholics, or if you prefer Facebook, you can join the Say Yes to Holiness TODAY Facebook group here. Finally, make sure to check out all of the FREE challenges, events and Masterclasses that are available at the Say Yes to Holiness Movement on the web.
To stay in the know about all of the upcoming FREE challenges, events and Masterclasses, join the Say Yes to Holiness email list and receive not only the Say Yes to Holiness Newsletter, but also be notified whenever Christina posts. Sign up here for the weekly Say Yes to Holiness newsletter.
Don't forget to check out and listen to episodes of the Say Yes to Holiness podcast here, or go to the Say Yes to Holiness YouTube channel for lots of videos to help you grow in holiness and make your faith an integrated part of your daily life. More information can also be found at: www.sayyestoholiness.com and www.christinasemmens.com