During this Holy Week, I thought it was especially appropriate to share this recent conversation that I had with K. Heidi Fishman. Heidi and I connected through a mutual friend on SmartCatholics, and was overjoyed to have the chance to have a conversation about her book, and her efforts within Holocaust education.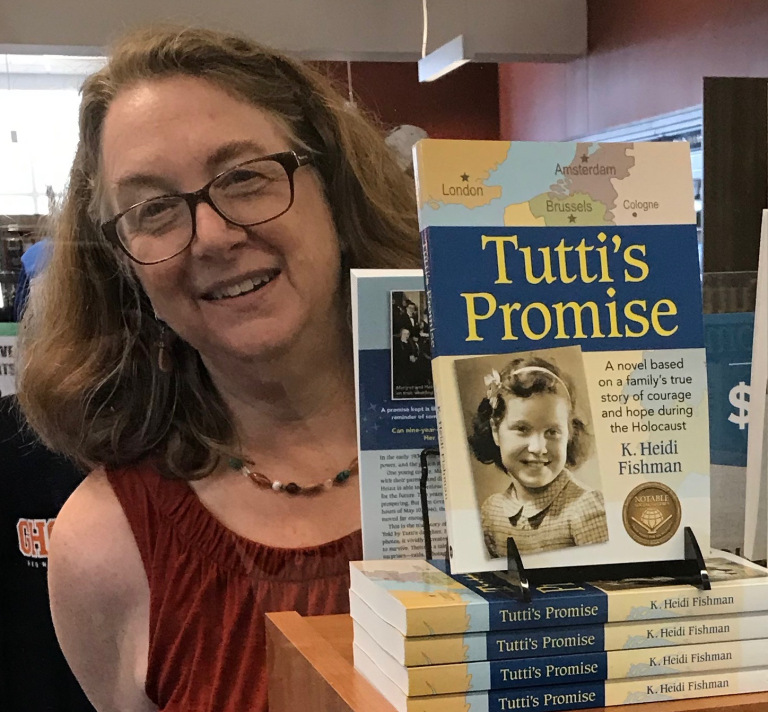 Primary among those efforts was the writing of her first novel, Tutti's Promise , which was published by MBPublishing in April 2017. She won the 2015 Joseph Zola Memorial Holocaust Educator Award from The Maurice Greenberg Center for Judaic Studies of the University of Hartford for the book proposal, and she continues to strive to see Tutti's Promise used in more middle schools to teach Holocaust Studies along with the many additional resources that have been developed to supplement the reading of the book.
Listen to: Episode 60 "Remembrance Is The Secret Of Redemption"
Although our conversation centered around her book and the efforts to ensure that the Holocaust is never forgotten, we also discussed the danger that exists when young people do not know or understand how the Holocaust came about.
A disturbing development in our world today is that as more years progress since World War II, and more Holocaust survivors pass away, it is becoming more common for people to dismiss the Holocaust and its stories about the suffering of people, particularly Jews, during the Second World War as some sort of exaggerated fable or myth. This growing reality is a danger for all of us within society, because as Heidi said so well, "Remembrance is the secret of redemption" for civilizations. For when we forget, or dismiss, the lessons of the past, then we are doomed to repeat them.
And this is what motivates Heidi to continue to seek to have her book, and the associated resources, to be shared and used within as many schools as possible. Heidi makes the story of the Holocaust accessible to all by sharing the story about how a child (her mother) gets a brand new doll called Popje (pronounced POP-ya, and means "Dolly" in Dutch) in a concentration camp on her ninth birthday while she was a prisoner at the Nazi transit camp Westerbork. It is this fascinating story that appears in the pages of Tutti's Promise.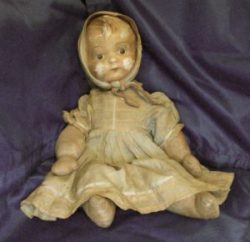 In addition to her Holocaust education work, Heidi is a retired psychologist and mother of four. She lives in Vermont with her husband and their elderly border terrier. She occasionally sees her busy twenty-somethings – mostly through video technology, and is open to making presentations and sharing the story of Tutti with anyone who is interested.
This conversation was profoundly moving for me, especially in light of Holy Week, and the reality that Jesus, too, suffered because of prejudice, fear and bigotry leading up to His death on the cross. I hope this conversation helps inspire, encourage and accompany you during this Holy Week to do WHATEVER IT TAKES to draw closer to God and become more like Jesus so you can truly enter into the joys of Easter.
Listen to: Episode 60 "Remembrance Is The Secret Of Redemption"
Or you can check out this podcast interview here on the Say Yes to Holiness YouTube channel
And in case you missed the lastest podcast episode, here is:
Episode 59–"The Longer It Takes, The Greater The Glory"
Thanks for your support, and hope you join me for additional conversation again soon!
To learn more about Terry and her work, go to: https://gnm.org/
At the end of the podcast, I invite you to sign up for the free First Things First Masterclass happening the week of April 12th, you can do that here
Christina Semmens is a Roman Catholic author, speaker, and coach and host of the Say Yes to Holiness podcast. She currently lives in Fort Payne, Alabama where she strives to live out a life of authentic discipleship in the pursuit of holiness while empowering, teaching and accompanying others in striving to do the same.
Click here to sign up for a FREE 15 minute consultation with Christina
If you are enjoying these posts, make sure to get a copy of Christina's latest book, Say Yes: Discovering Purpose, Peace and Abundance in Daily Life either on the Say Yes to Holiness website, or here on Amazon.
To learn more about how to embrace the life God created you for and discover more purpose, peace and abundance in your daily life, then become part of the Say Yes to Holiness Movement! You can do that by either joining the Say Yes to Holiness Community group hosted on SmartCatholics, or joining the Say Yes to Holiness TODAY Facebook group here. For FREE challenges, events and Masterclasses, check out the Say Yes to Holiness Movement on the web.
To receive notifications about all upcoming events and receive the weekly Say Yes to Holiness Newsletter. Sign up here.
Subscribe and listen to episodes of the Say Yes to Holiness podcast here, and also subscribe and watch the Say Yes to Holiness YouTube channel to be inspired and encouraged on the path towards holiness as you make your faith an integrated part of your daily life. More information can also be found at: www.sayyestoholiness.com and www.christinasemmens.com
Slider Options
Toggle