Monica McConkey and I have been crossing paths for the last five years–even though we weren't aware of it until about a year ago! But God finally gave us occasion to connect, and the result has been a great joy as we have each discovered many common interests–both of us are wives, moms and authors, and we also each have the desire to serve God as best we can in the vineyard.
For Monica, in addition to being wife and mom of 5 kids, she is also a designer, an architecture school survivor, and a crafter. She and her husband founded a Catholic apostolate called Arma Dei: Equipping Catholic Families, creating solid Catholic, fun teaching tools and gifts to celebrate and teach the Catholic Faith. She has designed numerous activities and crafts that kids like to do, as well as passed along other family-building ideas and traditions.
But the best story she shared was the one of how she was given a clear mandate about what she is doing, and that happened twenty years ago.
At that time, Monica was a mom of two young kids, and began collecting ideas for crafts and activities to celebrate and teach the Catholic Faith at home. Tapping into the Liturgical Calendar of our Church, she ended up creating a 300 page book entitled, A Treasure Chest of Traditions for Catholic Families .
But the story doesn't stop with how she and her husband cold-called Catholic Book stores in North America that were along the way of carefully chosen family vacation routes, or their attending Catholic conferences across North America. Rather, it took an extremely providential turn.
The Direct Order From the Pope
In 2002 during World Youth Day that was hosted in their home city of Toronto, beloved (now Saint) Pope John Paul II personally received a copy of her book! She was told that he flipped through the pages of her book, glanced at Monica's picture on the back, and then said "tell her to keep doing this for families".
From that directive has emerged several decades of work, and several books–all available at the web shoppe found at: www.armadei.com.
One of the most popular items are the Catholic Saints line, the Catholic themed games and other craft kits, some of which will become available (as are some of my own Say Yes to Holiness products), as part of the Catholic Moms Advent Bundle beginning Monday, Novemner 16th.
Her latest book, Prompt Me To Pray, presents practical tips for prayer that can be easily customized to fit our busy lives, habits, daily tasks, and even our struggles. Recognizing our littleness as an inexhaustible source of Prompt Me to Pray helps us to reach out humbly in prayer when we need Him most and reminds us that God can use all things for good.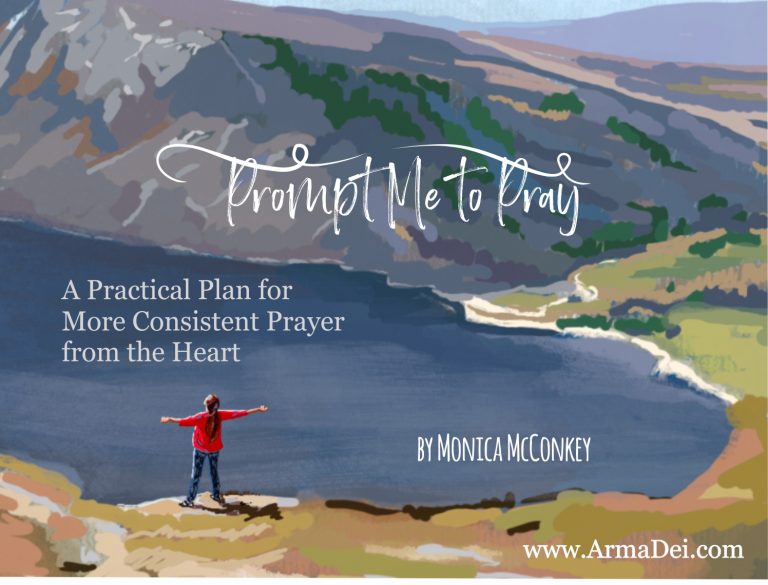 Monica shares the Prompts to Pray that she has discovered as she pursues consistent, heartfelt prayer and a personal relationship with Jesus.
The book features different approaches to heartfelt prayer including journaling and praying out loud, both spontaneous and classic prayers. Woven throughout are journaling pages with specific writing prompts and prayers to customize your own personal plan for prayer. Prompt Me to Pray also includes a prayer vault of classic prayers and templates of full color pocket prayer prompts.
Monica's and my conversation was one of great enjoyment and much laughter, especially in the midst of the numerous technology challenges posed by a poor internet connect–but also filled with wonderful insights. I hope that you enjoy our conversation, and are similarly inspired to do whatever you can to equip families to lives out their faith–even if you don't have a pope directing you to do so!
You can listen to the latest episode of the Say Yes to Holiness podcast here
Or to watch the interview on YouTube, click here.
You can find out more about Monica and her latest book at: www.armadei.com
Or follow her blog at: www.equippingCatholicfamilies.com
Christina Semmens is a Roman Catholic author, speaker, and coach and host of the Say Yes to Holiness podcast. She currently lives in Fort Payne, Alabama where she strives to live out a life of authentic discipleship in the pursuit of holiness while empowering, teaching and accompanying others in striving to do the same.
If you want to learn more about how to embrace the life God created you for and discover more purpose, peace and abundance in your daily life, then make sure to get a copy of Christina's new book on Amazon: Say Yes: Discovering Purpose, Peace and Abundance in Daily Life or you can purchase a copy at www.sayyestoholiness.com.
You are also invited to become a part of the Say Yes to Holiness Movement by joining the Say Yes to Holiness TODAY Facebook group and by selecting how to participate from among the many options found within the Say Yes to Holiness Movement. The next FREE Masterclass, Discovering the Purpose of Your Life, begins on Monday, October 12th. You can sign up here to participate, or if you want to simply talk about next steps for your spiritual life, you can set up a free consult with me here.
You can Text to Join the Say Yes to Holiness email list to receive the Say Yes to Holiness Newsletter, be notified whenever Christina posts, and find out about upcoming events by texting SAYYESTOHOLINESS to 66866 or sign up for the weekly Say Yes to Holiness newsletter here.
You can also listen to additional episodes of the Say Yes to Holiness podcast here.